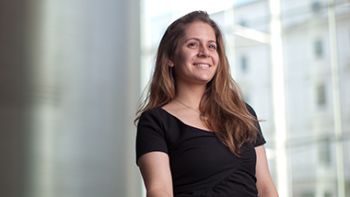 Elena Pallari is Research Assistant at King's College London School of Medicine. Her current work is on the evaluation of the research impact of Europe in 5 NCD (non-communicable disease) areas. Previously she has held posts at the Brunel Institute for Bioengineering and Imperial College Business School working on the conduct and evaluation of RCTs (randomised controlled trials).
Elena graduated from UCL with an MEng degree in Biochemical Engineering with Bioprocess Management. Her main research interests are in the field of health systems/services research through the evaluation of novel pharmaceuticals, innovative techniques and medical devices across the clinical pathway and the design of strategies to advance health and wellbeing with a focus on disease prevention and healthcare management.
Elena Pallari is an Associate Member of the Faculty of Public Health (FPH) Associate Member at the Institution of Chemical Engineers (AMIChemE) and has experience in cross-disciplinary projects within multi-national research teams using various research methodologies. Elena is an active volunteer within King's College Hospital Foundation Trust and a STEMM Ambassador for sciences, technology, engineering, mathematics and medicine motivating young women to pursue a university degree and career in these areas.