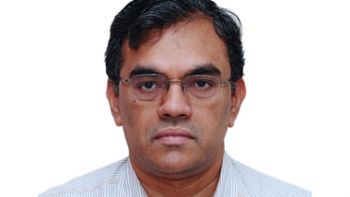 Mohandas Mallath is currently the senior consultant in department of digestive diseases at the Tata Medical Center, Kolkata. His current appointments includes: Member, Academic Council, Medical Council of India, and Member, Digestive Oncology Taskforce, World Gastroenterology Organization. He had previously held several senior executive posts including Director, Centre for Cancer Epidemiology and Dean Academic of Tata Memorial Center (TMC) Mumbai, and Convener of the Board of Studies in Health Sciences at the Homi Bhabha National Institute, Mumbai.
Mohandas obtained his Medical Degree (MBBS) from Goa Medical College, University of Bombay in 1982 securing second rank in his batch. He did post-graduation (MD) in Internal Medicine and residency at Goa Medical College, Goa and a 3-year Fellowship in Gastroenterology and Intensive Care at TMC, Mumbai. He had a short training in Digestive Oncology at Memorial Sloan Kettering Cancer Center, New York and joined the staff of TMC Mumbai in 1989. Later, he spent a year as a Commonwealth Scholar at Wolfson Institute of Preventive Medicine, Medical College of St. Bartholomew's Hospital, University of London. He has held many positions during his appointment at TMC Mumbai including; Professor and Head, Dept. Digestive Diseases; Officer-in-Charge Postgraduate Studies (2001-2006); Convener, Gastrointestinal Cancer Working Group (2009-2012), Vice-Chair, Scientific Research Committee (2007-2011) and Principal Investigator, Indian Oxford (INDOX) Collaboration at TMC (2005-2012).
Mohandas is member of several national and international organizations including; Indian and American Association for Cancer Research, European Society for Medical Oncology, American College of Gastroenterology, etc. He was the President of the Society for Gastrointestinal Endoscopy of India (1994-95), Council Member of the Indian Society for Gastroenterology, Indian Society for Study of the Liver and scientific advisor for European Neuroendocrine Tumor Society, and on the editorial boards of several peer reviewed journals. His 136 articles are in PubMed, and have authored 34 book chapters. His research interests are in Digestive Cancers, Cancer Epidemiology and Clinical Nutrition. He has received awards for his research including: Young Investigator Awards at Indian, Asia-Pacific and World Congresses, Commonwealth Scholarship Award, and ESPEN. His group has presented over 150 research papers at Indian and International Conferences and won several awards.